Study looks at the number of concussions in NCAA sports over five-year period
February 14, 2022
|
By Andrew Moser
Adrian Boltz is looking into the next frontier of concussion research: big data.
"This is the tip of the iceberg," he said.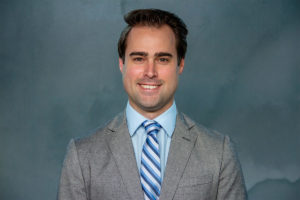 It also looked at how the concussions occurred – through player contact, contact with the playing surface, or contact with a piece of equipment – and if this was an athlete's first concussion or a repeat concussion.
According to Boltz, the analyses showed that concussions increased in women's volleyball and soccer over the five-year period, while the last year of the study saw a "notable increase" in concussions in women's ice hockey.
The analyses also showed that in male sports, most concussions were caused by player contact; female sports, however, saw more concussions caused by contact with equipment or apparatuses.
Boltz said it was difficult to pinpoint exactly one reason why concussions increased in women's volleyball, soccer, and ice hockey.
"We did a fairly good job describing the multifactorial nature of concussion incidence. I would say over the past five years, there has been a higher emphasis on reporting and documenting concussions, there are better instruments to detect concussions, and there have been improvements in player management and education across all the stakeholders," he said.
When Boltz compared sex-comparable sports (e.g. basketball, volleyball, ice hockey, etc.), he was surprised to find that women's basketball, soccer, and softball had higher concussion injury rates than their male counterparts. The analysis also showed that women's and men's ice hockey had comparable concussion injury rates, even though women's ice hockey does not allow body checking.
"Consumers of the sport would think the one sport that allows body checking has to be higher," Boltz said. "We looked through the literature to provide further support for our observations and we found there are some sex differences related to head-and-neck muscle mass. We also think anticipatory collision versus unexpected collisions may play a factor."
The NCAA Injury Surveillance Program is supported by the NCAA Sport Science Institute, and the Datalys Center facilitates and manages the program's operations. According to Boltz, the Datalys Center works in conjunction with technology partners to collect all of the injury data, which is gathered through certified electronic medical records.
Boltz said this kind of research allows for the detection of emerging patterns.
"Big data is immensely beneficial and supportive of identifying emerging injury rates and patterns and providing a perspective on what should be targeted and evaluated next as far as how these injuries are occurring. Determining what rules have been implemented may lend themselves to some of the observations that we find, as well," he explained.
Boltz said the next steps are to take a deeper dive into the data and look at it on a sport-by-sport basis, and/or begin conducting a more thorough analysis related to potential sex differences in concussion. "We need to take a 30,000-foot view and see how these injuries are occurring broadly. Then we can take a 10- or 5,000-foot view and get a deeper sense of how these injuries are occurring in student-athletes and how they affect them 15, 20, 35, 40 years down the line," he said.
Boltz added that the success of this paper would not have been possible without the contributions from his colleagues at the Datalys Center (Dr. Christy Collins, Dr. Avinash Chandran, Hannah Robison), collaborators from the University of North Carolina at Chapel Hill (Dr. Johna Register-Mihalik, Aliza Nedimeyer), and the many ATs who have volunteered to submit their data to the NCAA Injury Surveillance Program.