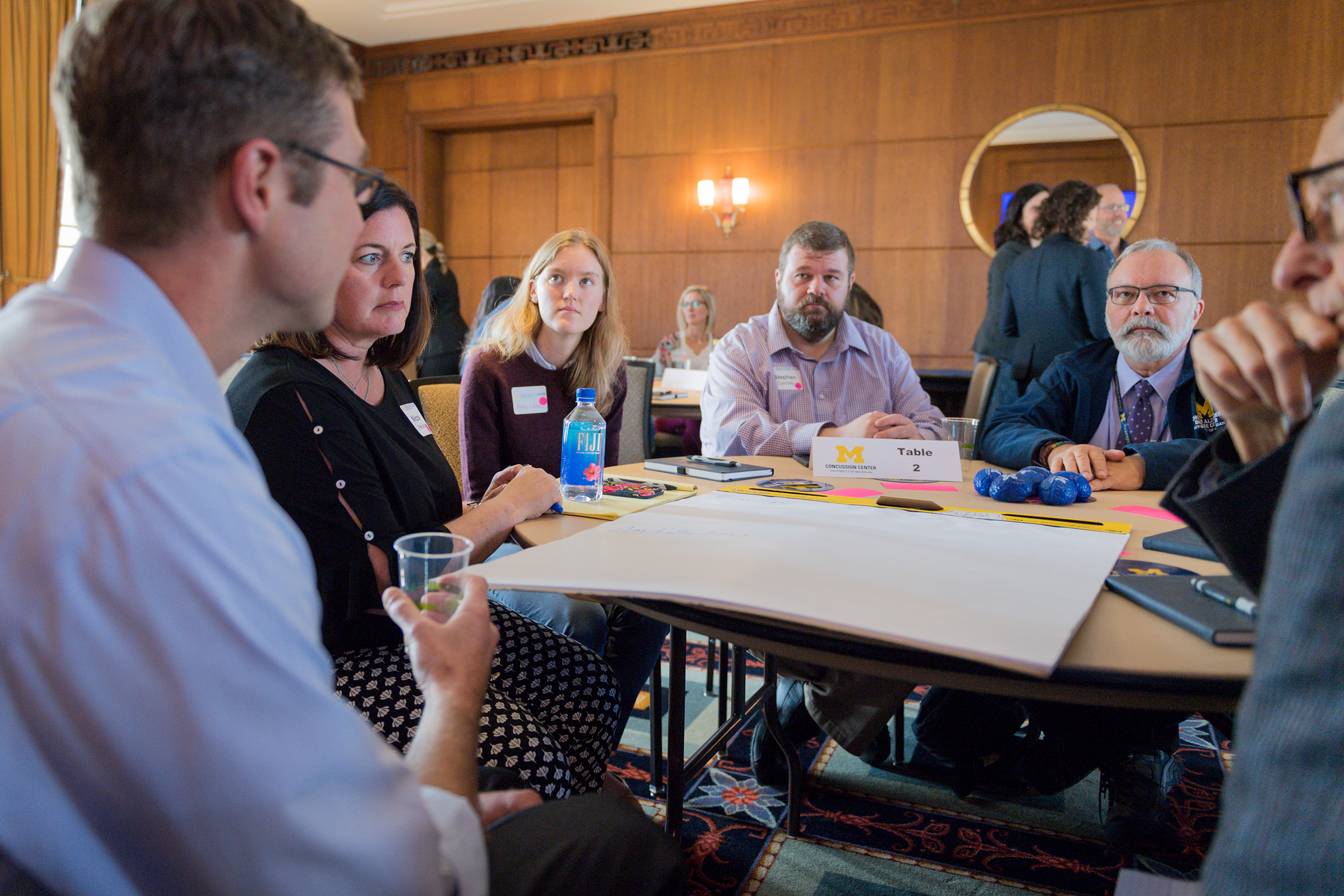 Member Resources
Concussion Center faculty, clinician, and staff members have access to the Member Resource Portal, which contains center policies and procedures, strategy, funding opportunities, news (including previous concussion corners), and a repository of students interested in working with our members.   To access all resources on the portal, simply create an @umich.edu Dropbox account (@med.umich.edu accounts do not allow for access) and click on the link here. If you need assistance with access, please contact concussioncenter@umich.edu.
Concussion Scholars Program
Background
The School of Kinesiology has received a generous endowed gift for the benefit of the Michigan Concussion Center.  The School of Kinesiology in partnership with the MCC Executive Committee will administer these funds with an emphasis on supporting undergraduate students and their research, travel, and internships related to concussion.  This support will be used to further the mission of the three cores of the Center: Research, Clinical, Outreach & Engagement.
Apply
Interested faculty may apply by downloading and completing the Concussion Scholars Grant Application and submitting the completed form to concussioncenter@umich.edu. Applications will be reviewed on a rolling basis. We will contact applicants within one month of receiving the application.
Mission
The Concussion Scholars Program seeks to support center-related endeavors of the faculty and clinical members who create opportunities for students to participate in the research, clinical, and outreach mission of the Concussion Center.  Faculty members benefit by receiving funding for their projects to further their portfolio, while students benefit from the project experience, a mentor relationship with concussion experts, and by joining a community of their peers interested in concussion.
Available grants
Funding for each area below is for a one-year period:
Project support Up to $5,000 student wages per project

Research Support Grant: Hourly support for students working on a concussion related research project sponsored by a faculty or clinical member.
Special Projects Grant: Hourly support for students participating in internships focused on existing concussion center priorities. These may include, but are not limited to, concussion outreach and education or the curation of centralized research assets for the center membership

Graduate Student Summer Grant: up to 50% summer effort for PhD students

Support for graduate students working on concussion related research, clinical, or outreach and engagement projects sponsored by a faculty or clinical member

Gap Year Project Grant: Up to $20k of student wages for research support or special projects

Support for graduating U-M students completing a gap year prior to graduate/ professional training in concussion to complete a research or special project sponsored by a faculty or clinical member.

Travel Grant: Up to $1,000/per student

Is available in addition to the student research support, internship grant, and/or student grant
Can be used to fund travel (e.g. mileage, room, board, registration) to present at a concussion related conference or participate in concussion specific training
Fund travel for community engaged research
Requirements
Brief student presentation on the research project, internship activity, graduate student activity, or conference or community engagement travel at Concussion Center Lunch and Learn meeting
Annual project summary report including project accomplishments to be shared with the center and the donor
Reference this support in research publications, press releases, posters, etc.
Equal Opportunity
The center is committed to a policy of equal opportunity for all persons without discrimination on the basis of race, color, national origin, age, marital status, sex, sexual orientation, gender identity, gender expression, disability, religion, height, weight, or veteran status.  This also applies to student recruitment for awarded projects.
Questions?
For questions on the Concussion Scholars program please contact concussioncenter@umich.edu.