Special Speaker Series: Dr. Ross Zafonte
April 5, 2023
|
By Tina Chen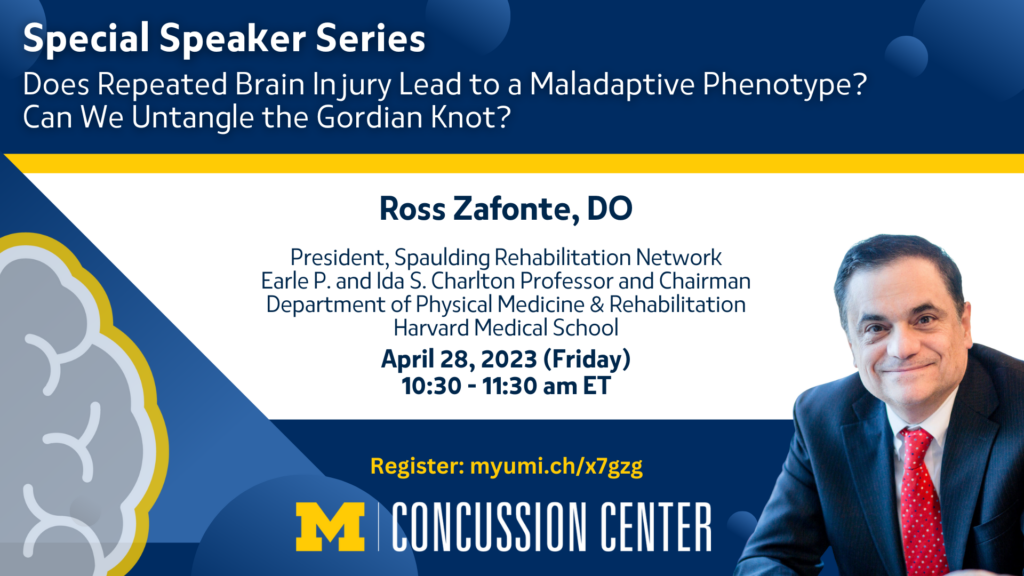 The U-M Concussion Center is proud to host a Special Speaker Series event on Friday, April 28, 10:30 am-11:30 am ET, featuring Dr. Ross Zafonte, the President of Spaulding Rehabilitation Network and the Earle P. and Ida S. Charlton Professor and Chairman of the Harvard Medical School Department of Physical Medicine and Rehabilitation (PM&R). During this special event, Zafonte will give a talk entitled: "Does Repeated Brain Injury Lead to a Maladaptive Phenotype? Can we Untangle the Gordian Knot?"
Dr. Zafonte serves as Chief of the Department of PM&R at Massachusetts General Hospital, Chair of the Department of PM&R at Brigham and Women's Hospital, and Senior Vice President of Medical Affairs, Research, and Education at Spaulding Rehabilitation Network. Dr. Zafonte's textbook, Brain Injury Medicine, is considered one of the standards in the field of brain injury care.
His work is presently funded by the NIH, DOD, and NIDRR, and he directs several large clinical treatment trials. His research primarily focuses on understanding mechanisms of recovery after Brain and Spinal Cord Injury. At the RedSox MGH HomeBase program, he directs the Brain Injury and the Warrior Health and Fitness programs, and at the Football Players Health Study at Harvard University, he is the Principal Investigator. Dr. Zafonte also sees patients in numerous clinics and hospitals in the Boston community, including former NFL athletes, as part of a special MGH initiative known as the Brain and Body Program.
Dr. Zafonte has published extensively on traumatic brain injuries, spasticity, and other neurological disorders and presented on these topics at conferences nationally and internationally. He is the author of more than 300 peer review journal articles, abstracts, and book chapters. He is on the Journal of Neurotrauma editorial board and, in 2020, was named the Editor in Chief for the Journal of the American Osteopathic Association. His most recent awards include the Innovative Clinical Treatment Award presented by the North American Brain Injury Society, the 2020 Distinguished Member Award from the American Academy of Physical Medicine and Rehabilitation, and a Public Service Medal from the United States Department of the Army for his work with military veterans.
Through all of Dr. Zafonte's endeavors – research, academic, clinical, and administrative – he has sought to improve the lives of persons with traumatic brain injury, spinal cord injury, and other catastrophic illnesses.