Smith discusses how a "shadow network" aids in concussion recovery
October 5, 2022
|
By admin
The University of Michigan Concussion Center was proud to host Dr. Douglas Smith from the University of Pennsylvania on Thursday, September 29, as part of its Speaker Series presentations.
Smith, an endowed professor of teaching and research in Neurosurgery and director of the Center for Brain Injury and Repair at the University of Pennsylvania's Department of Neurosurgery, discussed  "What underlies concussion? A shadow network?" with a live and virtual audience focusing on what happens during a concussion and describing how the brain recovers from the injury.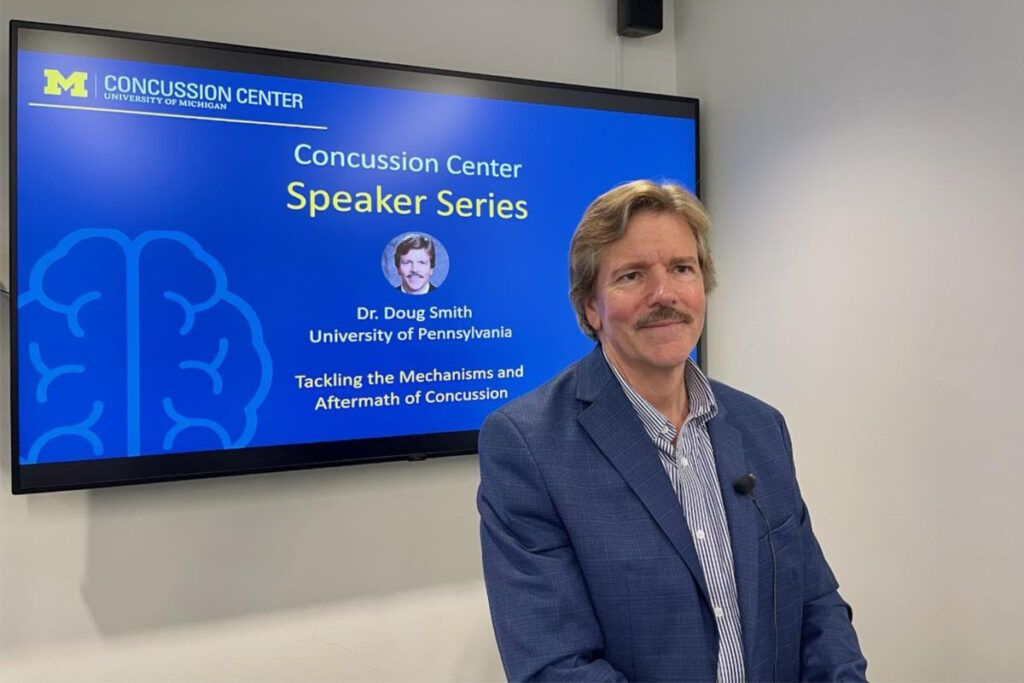 Smith said a concussion isn't "your brain bouncing back and forth like a nut in a shell, or that you have a contusion or a bleed (which are signs of a more significant injury)." He challenged everyone to think of concussions as a brain connectivity disorder, explaining that a concussion stretches and breaks the axons, the long, thin cables connecting neurons and sending electrical signals throughout the brain.
He also highlighted differences in male and female genetic risk factors for concussion, including the type of axonal injuries males and females suffer. According to Smith, female axons are smaller, have fewer microtubules (hollow rods in a cell that help provide its structure and shape) than males, and suffer more damage following a concussion than males.
Transitioning to recovery, Smith said there is a "shadow network" (as he calls it), a synchronous, micropatterned neural network consisting of nodes and axon lanes, that assists with recovery. He explained there is more than just a connection between two nodes with a primary function; the nodes also have axons connecting to other parts of the brain.
According to Smith, four nodes are grouped together with five axon lanes running between each node to form a parallel communication pathway for brain signals to travel on. Smith hypothesizes that when a concussion occurs, the axon lanes between two of the nodes are damaged. To assist with recovery, the nodes will, over time, begin re-routing the brain signals along the remaining in-tact axon lines between the other three nodes to form a new communication pathway the brain signals can follow.
He added future research could look at this network to help understand how outcomes differ in concussions before answering questions from the live and virtual audiences.
Eleanna Varangis, assistant professor of Movement Science at the School of Kinesiology, attended the presentation in person and was fascinated by Smith's explorations of the various effects of concussion on the brain.
"I was compelled by his discussion of how the brain naturally builds in redundancies to functionally compensate in the face of concussive injury," Varangis added. "This idea that each person's brain develops a variety of different pathways to access the same information or processes is a great framework to explore how injuries can affect the brain and how people show varying levels of impairment after the same injury.
Laura Rowen, injury prevention/Michigan Safe Kids coordinator at the Michigan Department of Health and Human Services, attended the presentation virtually. "We are fortunate that our partners at the University of Michigan Concussion Center are able to bring experts like Dr. Doug Smith to share their information and knowledge with Michigan," she said.
The next Speaker Series presentation will be in early 2023. Sign up for our U-M Concussion Quarterly Newsletter to be notified for future events.