Member Profile: David Millward
November 9, 2022
|
By admin
The University of Michigan is fortunate to have Dr. David Millward returning to his collegiate roots, leading Michigan Athletics as the Medical Director/ Head Team Physician.
As a talented Canadian youth golfer, Millward played collegiate golf at Olivet College, less than an hour-and-a-half drive west of Ann Arbor. During this time, he fell in love with college athletics, discovered his interest in math and science, and married the two to begin a career in sports medicine.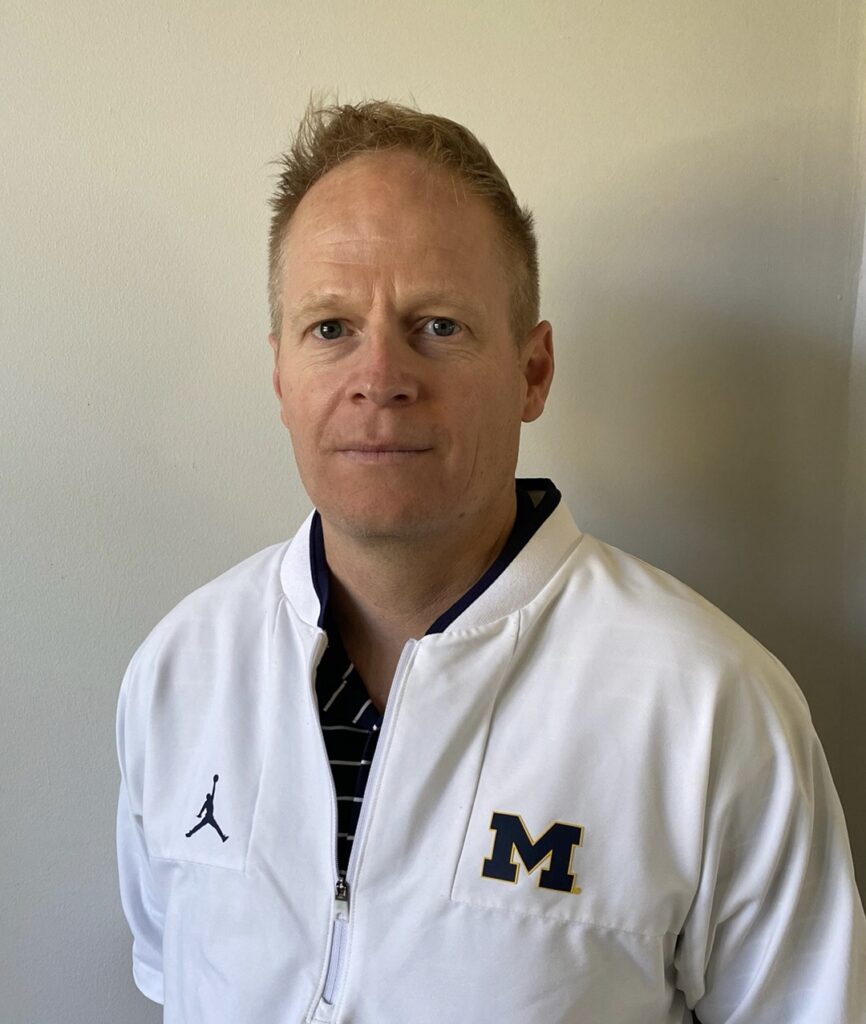 "It was because of that love of sports that I had to find something I could do in a related field for a career," said Millward.
To achieve his long-term career goal, Millward pursued a master's degree in epidemiology from Michigan State University and moved to the University of Ottawa for his medical degree. He then completed his residency and fellowship at the University of Arizona and spent the next 14 years caring for its student athletes before accepting his current position at the University of Michigan.
"I always knew I wanted to come back this way to be closer to family. The University of Michigan was always on my radar as a top school because of its excellent academic and athletic programs. When the opportunity opened, I applied and was fortunate enough to get it," said Millward.
Now that Millward is at U-M, he is looking forward to strengthening Athletic's collaboration with the Concussion Center by serving on the Faculty Council and getting involved in various opportunities such as the newly launched "U-M Alumni Neurological Health Study".
As a pilot, the study invites all U-M alums who graduated before 2012 to take a survey, helping researchers evaluates key neurological outcomes to shed light on the relationship between sports participation, concussion history, and long-term brain health.
"This study is important for several reasons. When looking back at a student athlete's career, we can discover… potentially modifiable risk factors that can be applied to current student-athletes," Millward explained. "It's only by doing that research that we can identify problems that may not even have surfaced when they were here but are coming up later in life. Then, we can use that information to treat our current student-athletes better and help those struggling down the road."
Millward is particularly interested in understanding the current research on concussion diagnosis and treatment, facilitating evidence-based management and treatment strategies when caring for student-athletes. According to Millward, Concussion Center's research innovation informs he and the other team physicians and keeps them up-to-date on the latest care and treatment recommendations.
Over the past two decades, he has seen the evolution of the continuum of concussion care. For example, Millward indicated that the inclusion of return-to-learn and return-to-play strategies in follow-up care allows student-athletes to return to their pre-injury lifestyle with more support and fewer difficulties.
"We want to make sure that when (student-athletes) do return to play, they are doing it safely," he added.
One of the clinical barriers Millward has had to overcome throughout his career is helping student-athletes navigate all the resources available on and off campus. He said that while student-athletes have access to top medical care, they don't always know when to ask for what, which can delay their care. "That's where we come in and help them find their way…to whatever care they need so that they can continue to reach their goals," he added.