Faculty Spotlight: Hala Darwish
August 31, 2022
|
By admin
Dr. Hala Darwish, an associate professor at the University of Michigan's School of Nursing, has always had a passion for neuroscience. She is combing her neuroscience expertise and experiences as an emergency department nurse to help research the biological, social, behavioral, and environmental factors that lead to impairments in cognitive function.
Darwish called the concussion recovery process "multi-factorial and complex." She said the brain is continually influenced by biological, social, behavioral, and environmental factors. When a concussion occurs, these factors need to be incorporated and taken into consideration.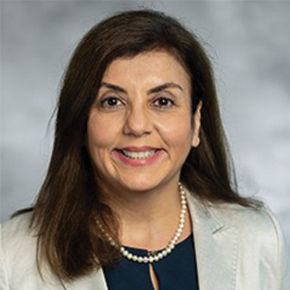 "It's not like our brain is going to recover in isolation. It's still going to be stimulated from the environment, and the environment includes a multitude of things," Darwish said. "So, how much sleep do they need? How much stimulation do they need? How much social support?"
Darwish is the first neuroscience scholar in the U-M School of Nursing. Her current research integrates cognitive rehabilitation therapy and cognitive behavioral therapy. This involves determining how effective integrating cognitive and affective interventions will be in helping patients improve their functionality and speed up their recovery process. She hopes to incorporate her findings into nursing training and education, informing future clinical practice.
She also emphasizes protective measures against concussions and identifying populations at greater risk for mild traumatic brain injury. One of those populations is older adults.
According to Darwish, concussions in older adults differ from any other age group. According to the CDC, 1 in four older adults falls annually, which places them at a higher risk for concussions. Additionally, many older adults are on blood thinners, which could exacerbate the injury due to the risk of hemorrhaging or bleeding. Hemorrhaging could cause a mild traumatic brain injury (TBI) to become a moderate or severe TBI, which can affect the patient's recovery and trajectory outcome.
Normal aging takes its toll on our brain, with neuronal and chemical changes that can lead to cognitive decline and a higher risk for neurodegenerative diseases. Adding a concussion to an aging brain becomes a further burden.
"This is a vulnerable population, and we need to educate the caregivers of older adults about the importance of preventing a fall. And then if a fall happened and there is a traumatic brain injury, educating them on the signs and symptoms," she said.
She added that concussions and TBIs are also more prevalent among younger adults and children.
Helping older and younger adults regain their function after a concussion is the ultimate goal.
Concussions were the most prevalent traumatic brain injury Darwish saw when she worked as an emergency department nurse at the American University of Beirut Medical Center and the University of Michigan.
When she first started, patients were instructed to only return to the clinic if their concussion symptoms worsened. "Little was integrated at the time, in terms of instructing the person who sustained a concussion, about other symptoms like headaches or cognitive sequelae," she said. "Now the guidelines are changing, and we're incorporating this more into clinical practice."
In 2000, Darwish immigrated to the US and came to U-M for graduate nursing school. She worked at Michigan Medicine as an emergency department nurse while completing her master's degree. She then returned to the American University of Beirut as an assistant professor of nursing following her post-doctorate fellowship at the University of Illinois Chicago. She was eventually promoted to associate professor and became the managing director of the Faculty of Medicine and Neuroscience Institute and the Multiple Sclerosis Center.
She also started a clinical cognitive rehabilitation program through the American University of Beirut Medical Center, which addressed cognitive and affective deficits of patients with neurocognitive disorders, including concussions.
Clinically, Darwish sees a correlation between concussions and mental health issues, such as depression, because the same neural networks and neurotransmitters disrupted by a concussion are also associated with depression.
"The inflammation and other factors leading to the depression are also associated with the concussion sequelae at the cellular level," she explained.
Darwish's international research helped her become keenly aware of the different cultural and contextual factors that need to be considered when creating clinical programs for patients.
After returning to Beirut, she realized the cognitive assessment tools used in the US wouldn't work for her patient population due to language barriers and cultural differences. For example, a memory test used the words "squirrel, celery, and basement." According to Darwish, those words either don't exist (squirrel and basement) or aren't important (celery) in the Lebanese culture.
"In the US, which is also a very diverse population, what applies in New York might not apply in a different rural area," she said. "So, all of these different contextual factors must be considered when caring for patients."
She is excited to begin collaborating with other Concussion Center members.
"The research and concussion hat is multi-factorial, so it has to be interdisciplinary. It cannot be looked at from one angle," Darwish said. "So, diversity within the team is essential. Having the Concussion Center, with people whose sole expertise is this, is a blessing."