Faculty Spotlight: Dr. Anne Sales
November 10, 2020
|
By Andrew Moser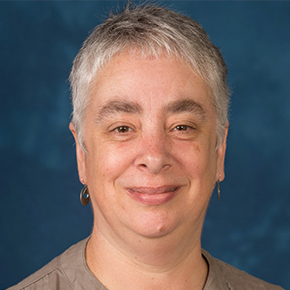 Dr. Anne Sales is a professor of Learning Health Sciences at the University of Michigan Medical School and a research scientist at the Center for Clinical Management Research at the Department of Veteran Affairs (VA) Ann Arbor Healthcare System. Her training is in sociology, health economics, econometrics, and general health services research. Her current work involves the theory-based design of implementation interventions, including understanding how feedback reports affect provider behavior, how behavior change impacts patient outcomes, and the role of social networks in the uptake of evidence-based practices and implementation interventions.
We spoke with her about her career and the role learning health systems could play in future concussion care and management.
Michigan Concussion Center: Can you provide a summary of your career path? How does one decide to become a professor of Learning Health Sciences?
Anne Sales: I started by getting my undergraduate degrees in sociology and anthropology. I then received a degree in nursing, and worked as a hospital nurse before becoming a community nurse. I decided to go back to school and complete a master's degree in nursing, becoming a nurse practitioner, and worked in that role for a few years before completing a PhD in Health Services Research. I started working at the VA in Seattle as a health services researcher, and I continue to be VA affiliated. I previously worked at the University of Washington and the University of Alberta in Edmonton, Canada, before coming to the University of Michigan.
MCC: How did you make that transition from a VA hospital to a university setting?
AS: VA health services research is a research program, and pretty much everyone who is a health services researcher in the VA has a university affiliation. I worked in Seattle at the University of Washington as a full-time VA employee in addition to teaching courses in the Department of Health Services and the School of Public Health. I also advised students and did other faculty work. Currently, I spend more of my time at U-M and less time at the VA, but it's still a joint appointment.
MCC: What are learning health sciences and systems?
AS: Learning health sciences is a general scientific area of pursuit that focuses on learning across multiple levels (i.e individual, group, organization, region, nation, etc.). A learning health system is a concept created out of the application of the learning health science discipline and has been around for two decades. The Institute of Medicine published a series of 13 books on the subject over a 15-year period. It's conceptualized as health care systems, not necessarily a single system like Michigan Medicine, but it would include Michigan Medicine and the VA. Learning health systems intentionally use their data, activities, and service provision to learn and improve. One slogan associated with it is "learn from every patient," meaning you learn from every patient and encounter you have. For example, our supply chain management issues were serious during the COVID-19 pandemic this spring. If you apply a learning system approach and think about the experiences you have, rather than treat it as a one-time thing to get it done, you embed new processes to ensure those issues don't happen again. It's the same principle with patient care. The science part of learning health sciences is a recognition that this is a very complex interdisciplinary space. It's not a single science, and it synthesizes across many disciplines. So, the disciplines we explicitly have within our department at U-M are data science, informatics (or information science), implementation science (the area I work in), policy, ethics, and a whole array of other disciplines that contribute to studying and developing learning health systems.
My work in the Department of Learning Health Sciences focuses on implementation research. I teach a course in implementation research, and I do research focused on implementing evidence-based practices in a wide variety of settings, including nursing homes, intensive care units, and other settings. I collaborate with a large number of people, especially clinicians, to ensure that the evidence-based practices we focus on make sense and will improve care.
MCC: When did you realize you were interested in working with concussions?
AS: Dr. Eckner contacted me after the concussion center was funded. Dr. Eckner is from Physical Medicine & Rehabilitation, and they, in conjunction with Neurology, are in the process of becoming a learning health system. He looked at what they were doing and thought this approach could be applied to concussions. This makes sense because treating concussions is such an interdisciplinary process, from treating the initial injury to follow-up care. My primary interest still is learning health systems, but I think applying that to concussion care is a very reasonable thing to do.
MCC: How can you use your background and training in sociology, health economics, econometrics, and general health features to help expand concussion knowledge at U-M?
AS: There are a lot of people involved with the University of Michigan Concussion Center who are interested in concussion research and the systems and processes related to concussion care. So as the interdisciplinary nature of the center grows and expands the university's concussion knowledge, the concussion LHS will similarly expand doctor's and researcher's knowledge of the best-individualized concussion care and treatment for patients.
MCC: How do you envision the learning health system benefiting concussion management and treatment?
AS: I can see it working in phases. A learning health system approach can be taken during the acute phase of concussion when someone experiences a concussion and that person is in the emergency department receiving care. Right now, there's work to standardize assessment templates to ensure people use common guidelines, approaches, and unified ways of thinking and practicing. This keeps people from saying, "Well, my preference is to look at a brain injury this way." At the practice level in early phase acute care for a concussion, I can see a learning health system revolve around the emergency care system and then follow up with the things that people still need in the later acute phases. I think it becomes more challenging when you start to think about the longer-term consequences of concussion follow-up care because people's experiences vary so much. You've also got variation that's imposed by what an individual's insurance covers. Will the insurance cover extensive rehabilitation, or is an individual going to have to get a very quick rehab course and then learn how to take care of himself/herself? Those are different kinds of scenarios, and how the healthcare system interacts with those people will be different.
MCC: What are the next barriers to work through in your area of concussion research?
AS: The biggest ones right now are the lack of easily accessed, extracted, and manipulated data and the approaches to not only take the data out but put new prompts and evidence-based best practices back into electronic health records. The center is already engaging in that effort by bringing together elements from the research and clinical areas of the center, using their existing knowledge and any future data collected to develop solid evidence-based best practices that can be shared within the LHS.
MCC: What excites you about becoming a member of the Concussion Center?
AS: I think that there are a lot of people with interdisciplinary skills and different expertise who take different perspectives on things. I think it's a very exciting opportunity. Another thing I'm excited about is the potential for multi-site work. For example, concussion guideline implementation that emerges as best practices for caring for people who suffer concussions in different contexts (sport, motor vehicle accidents, etc.) and outcomes. It's a common problem, and we have a lot of potential in this area. A lot of people need this kind of care, so helping ensure the best practices don't just stay at high-end universities like Michigan and that it gets distributed widely would be a really good thing.