Faculty Spotlight: Andrew Hashikawa
Dr. Andrew Hashikawa is an Associate Professor in the departments of Emergency Medicine and Pediatrics and is board certified in pediatric emergency medicine and pediatrics. He serves as an executive committee member of the American Academy of Pediatrics Council on Early Learning. He has helped develop some of the online medical education programming at the University of Michigan Injury Prevention Center. He is a co-lead on its first massive open online injury prevention curriculum for healthcare providers globally and its recent second iteration that includes information on health inequities, adverse childhood experiences, firearm safety, and drowning. Dr. Hashikawa's research also focuses on the health and safety of early learning (child care/preschool) and summer camp populations.
We sat down with him to discuss his interest in concussions, his research, and his work with the various organizations as an active member.
Michigan Concussion Center: Could you provide us with a brief summary of your career and how you came to the University of Michigan?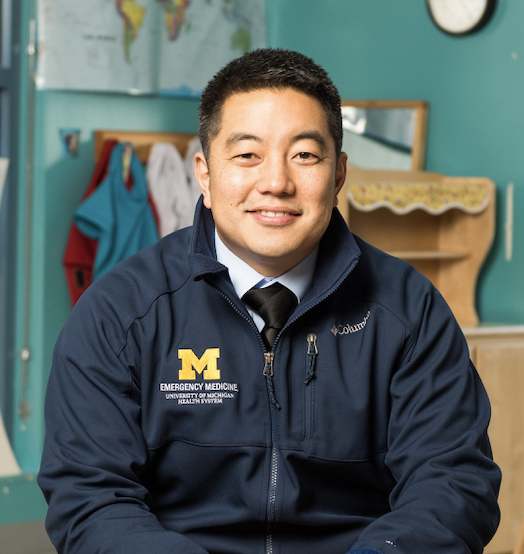 Andrew Hashikawa: My dad worked for Japan Airlines, so I lived all over the United States country and I came to Michigan when I was in high school. I was born in Hawaii, but I call Michigan home. I went to U-M Flint for my undergrad before going to the Mayo Clinic for both medical school and residency. I did a fellowship to become a pediatric emergency medicine physician, which is what I have done since arriving at Michigan Medicine in 2010.
MCC: How did you get interested in concussions?
AH: Concussions are a natural extension of my role as a pediatric emergency medicine physician. We see numerous head injuries, including concussions. Since it's a natural extension of what I see clinically, I want to see if there is anything I can do to prevent concussions in children and provide education to families.
MCC: What research areas are you interested in?
AH: While concussions are not my entire focus, one of the areas I am interested in is looking at one of the forgotten cohorts of patients: children in childcare settings. A lot of attention is paid to schools, but the zero-to-five age children are consistently marginalized.
The other area of interest to me is children who attend summer camp. Summer camps are important locations because many sports programs and outdoor activities (horseback riding, sailing, etc.) employ junior counselors to supervise the children, and head injuries do occur. I want to make sure we are connecting those stakeholders with the most up-to-date information on concussions and concussion prevention methods. Additionally, a lot of attention is placed on coaches and referees throughout the school year, but we can't forget those who volunteer and work at camps during the summer. So, we need to continue reaching out to the camp world.
MCC: Is there any research you would like to highlight?
AH: I worked with a medical student who was a talented artist, so we developed comic-based discharge instructions for concussions. Comics have been thought of as a means to reach out to the younger population who seek treatment in the emergency room. In my opinion, most of the discharge instructions are complicated and most people don't read them. So I was wondering if there was a different way of messaging our instructions to help our patients understand and remember them better.
Second, I think there could be a way we could do additional discharge instructions digitally, which 1) could be sent to the parents/patient's phone and 2) reduce the amount of paper we use in the emergency department. It's been shown that comics can bring a point across without using so many words, and I think it's another avenue we can use to communicate with a younger audience. Otherwise, you see a lot of instructions thrown away or not being read because it's a bunch of words on a piece of paper.
So we combined the comic-based instructions with a comic video, and I think the children and adults responded to it well. The combination of the comic video and written comic was better than the regular discharge instruction methods, and I think we could start exploring the use of comics for other general discharge instructions.
MCC: Can you talk about the work you do as an advisory member for the State of Michigan?
AH: I serve on the executive committee of the American Academy of Pediatrics Council of Early Childhood Learning. I'm also the early childhood champion for the State of Michigan, meaning all things related to the young population in childcare, including previously the "Race to the Top" initiative and guidelines for child care programs during the COVID-19 pandemic. In my role, I act as a liaison between the medical community and the child care community. I wanted to highlight injury prevention for that age group, especially training on how to pay attention and provide good care while childcare providers observe children on the playground and on tricycles (tricycle accidents occur more than people think). The more child care providers know how to actively supervise children, the better. I have been creating and providing training sessions to bring more awareness about injuries and be that connection between healthcare and early childhood providers.
MCC: What are some recommended concussion prevention strategies for children at the early childcare age?
AH: If we can introduce the concept of injury prevention, like wearing a helmet, at an early age, the children will begin to develop those habits. Can we do it when they are four or five years old instead of starting with a 10-year-old who may refuse to wear a helmet because they aren't used to it or don't want to do it? This way, they are used to helmets while riding their bike, and we get their parents on board. Now they know that every time their child(ren) get(s) on a wheeled toy, they need to wear a helmet. I think the idea of tackling a problem "upstream" is an important approach that fits well into the early childhood space.
MCC: You're one of the lead authors for the National Injury Prevention Curriculum for Early Learning Providers. What does that include?
AH: I was tasked with creating an online injury prevention training course for childcare providers through Pedialink, the National Injury Prevention Curriculum's e-learning platform. The course focuses on everything related to injury prevention, including what kind of playground is safest for children to play on and wearing helmets at places that provide tricycles and scooters. Small children can sustain concussions and head injuries, and what the providers do, say, and model becomes important. At the ages of four and five, just about everyone is learning how to ride a tricycle, scooter, or bike and what you model becomes essential because it can leave a big impression on them. So we focus the training child care providers and preschool teachers on the concept of active supervision. A lot of adults "watch" children, but are they paying attention, or are they on their phones or talking to each other? The course encourages active listening, participation, and supervision and focuses on different injury and injury prevention concepts for that age group.
MCC: What excites you about being a member of the University of Michigan Concussion Center?
AH: There is so much expertise at the many different schools at U-M, and I think unifying that under our mutual interest and expertise in concussion, concussion prevention, and injury prevention is really cool. Amazingly, we get to look at the breadth and depth of the research people are doing. It has also been great to collaborate with the different researchers within the center.