Concussion Center hires new staff to support strategic research initiatives
December 9, 2022
|
By admin
Our faculty members spoke, and we listened.
During the U-M Concussion Center's series of faculty workshops, research coordination support was identified as a key strategic enabler needed to advance concussion research at the University of Michigan, especially for new pilot projects and discrete research tasks. To meet our ongoing faculty members' needs, the center welcomed two new staff members, Michaela Broadnax and Matthew Morley, who will provide research support tailored to research teams' needs.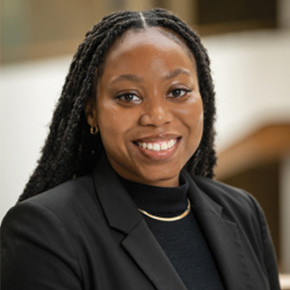 Broadnax serves as the center's research area specialist and Dr. Eleanna Varangis' (assistant professor of Movement Science, School of Kinesiology) research laboratory manager. Broadnax previously worked as a lead research coordinator at Case Western University School of Medicine and outreach coordinator for the Cleveland Alzheimer's Disease Research Center (CADRC). According to Broadnax, she analyzed qualitative data, trained research staff members, collected quantitative data, nurtured institutional and community partner relationships, and gathered preliminary data on recruitment needs for underrepresented populations on three National Institute of Health funded grants during her tenure at Case Western and CADRC.
During her time at the CADRC, she learned that people who suffer a concussion or a traumatic brain injury (TBI) are at a higher risk for Alzheimer's disease (AD) later in life. "Often, people focus on the short-term risks (of concussion): 'When can I play again?' When can I go back to work?' or 'When can I drive again?' versus treating it while keeping the long-term effects in mind," said Broadnax.
She can now marry her research interest in brain injury and neurocognitive decline by examining concussion effects on neurocognitive function in adulthood and continue studying ways to treat brain injury for the prevention of cognitive decline.
Broadnax added the center's multi-disciplinary approach, in addition to Dr. Varangis's goal of examining the long-term effects of concussion, was the perfect fit for her.
"My experiences as both a clinical research and outreach coordinator have prepared me to take on any challenge," she explained. "I haven't worked with just one research field, so this experience has prepared me to work with any given population and to have empathy while doing so. I also have experience collaborating across various institutions and working with diverse populations, which are critical to support the center's research mission"
---
Matthew Morley brings a background in the social sciences, particularly an emphasis on research data management, collection, and education to his role as the center's clinical research coordinator.
He spent the last ten years working at the University of Michigan Institute for Social Research (ISR). His first six years at ISR were with the Inter-university Consortium for Political and Social Research (ICPSR), one of the world's leading data archives.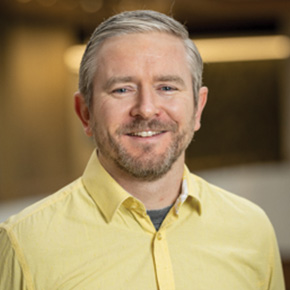 Morley said throughout his time at ICPSR, he worked on data management, curation, and documentation and developed data pipelines for federally funded projects.
From there, he transitioned to being a project manager for ISR's Research Center for Group Dynamics, specifically the Aggression Research Group. Morley oversaw projects related to youth exposure to violence in urban cities like Flint, Michigan, and Jersey City, New Jersey. In addition to collecting and managing data, Morley helped with survey design, oversaw teams out in the field, and worked with project partners (U-M students and researchers, study participants, and community organizations).
According to Morley, data helps run the world.
"It's even more critical in the health sciences because you can see how things develop. Whether it's a pandemic or concussions, there is something wrong about what is taking place in people's health, and that needs to be understood," he said. "So, I've tried to throw myself into whatever I can to understand this world better."
The center's multifaceted commitment to research, clinical care, and public engagement drew him to the position.
"With my background in different aspects of research and the multifaceted nature of the center's projects, I feel like I'm in an excellent position to help further the growth of these studies and facilitate the research and public engagement," Morley said. "With my background in education, I can help with data management and collection and be a facilitator from the researcher to subject participants, community organizations, and health systems."
He also has a personal connection to concussions. He played collegiate rugby at the University of Southern California in addition to being a lifelong football fan. While he was never diagnosed with a concussion, he had many teammates who were.
"There is a lot of ambition here (at the center). Everybody is great, super nice, and it just feels like you're a part of something really important that is just getting off the ground," Morley added.
"We are very excited about having Matthew and Michaela on board to strengthen our research core," said JT Eckner, associate director of research for the center. "In addition to providing research support for our faculty members, they will be instrumental in building our Concussion Learning Health System (C-LHS), which will generate and translate concussion knowledge to improve patient care at the University of Michigan."
Call for Proposals »
Faculty can fill out applications for Discrete Task Support or Ongoing Projects on a rolling, ongoing basis. The current call for proposals will remain open through January 31, 2023, with project support availability as early as March 1, 2023.