Center welcomes Dr. John Leddy for Speaker Series talk
November 29, 2021
|
By admin
Dr. John Leddy, clinical professor in the Department of Orthopaedics at the University of Buffalo Jacob School of Medicine & Biomedical Sciences, joined the U-M Concussion Center on Thursday, October 28 for the first in-person Speaker Series event since the series started. Over 100 guests were also able to join the hybrid session to hear Dr. Leddy's remarks.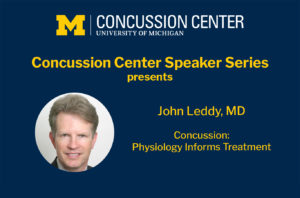 His talk, entitled "Concussion: Physiology Informs Treatment," described aspects of the physiology of concussion with respect to the autonomic nervous system and cerebral blood flow regulation, the role of exercise tolerance testing in the prescription of individualized sub-threshold aerobic exercise for the treatment of concussion and persistent post-concussive symptoms (PPCS), and how the principle of "exercise intolerance" is used in the treatment of concussion.
The presentation was held in the School of Kinesiology Building's new distance-learning classroom.
You can view the entire presentation here.
Dr. Doug Smith will present on Thursday, January 27, 2022. He is the director of the University of Pennsylvania Center for Brain Injury and Repair as well as the Robert A. Groff Endowed Professor and vice-chairman of Neurosurgery at the University of Pennsylvania.