Center Participates in LHS Collaboratory Kick-off Poster Session
September 22, 2022
|
By Tina Chen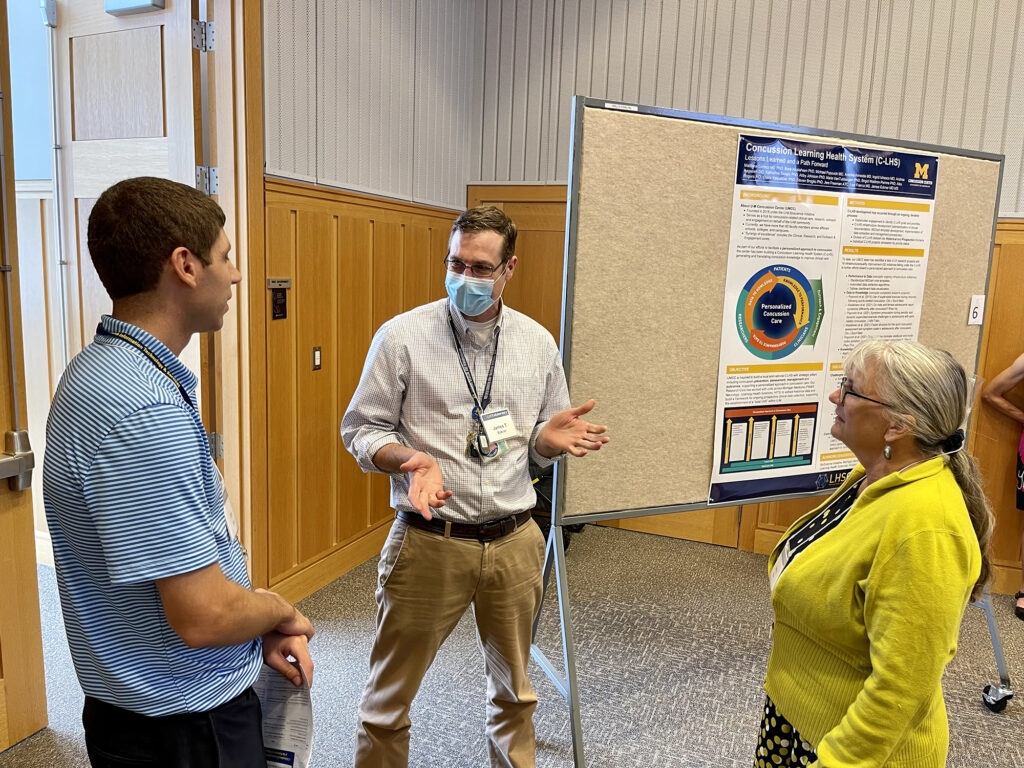 To foster a community of practice supporting multidisciplinary efforts to build learning health systems across campus, the Department of Learning Health Sciences (DLHS) convened the 2022-2023 LHS Collaboratory Kick-off Poster Session on Thursday, September 22 at Palmer Commons. Representatives from over 25 campus units joined the celebration luncheon to showcase the progress they have made to date and make new connections for future collaboration.
As part of the Center's efforts to facilitate a personalized approach to concussion, our team has been building a Concussion Learning Health System (C-LHS) to generate and translate concussion knowledge to improve clinical care. Thus far, our team has identified 23 research projects and 16 infrastructure/ quality improvement (QI) initiatives falling under the C-LHS umbrella to further efforts toward our goal.
Our Associate Director for Research, Dr. JT Eckner, and Managing Director, Tina Chen, represented the Concussion Center during this event. We shared lessons learned from this journey and a strategic direction for future research projects, with C-LHS serving as the backbone. During the interactive poster session, we brainstormed with other campus partners who are building similar infrastructure to support research innovation in their own specialty areas. Partners represented the School of Education, Precision Health, e-Health and Artificial Intelligence (e-HAIL), and multiple Michigan Medicine Departments including Physician Medicine & Rehabilitation, Psychiatry, Emergency Medicine, and Health Information Technology & Services.
As the C-LHS moves into its next phase, we look forward to future opportunities to share our data-to-knowledge (D2K), knowledge-to-practice (K2P), and practice-to-data (P2D) learning experiences with our members and to exploring additional collaboration opportunities.