Center members help investigate new concussion treatment technology
February 14, 2022
|
By admin
Two U-M Concussion Center members are leading a C.S. Mott Children's Hospital team investigating a novel treatment that has shown the potential for significant improvement in clinical outcomes following a concussion-related event.
Dr. Ingrid Ichesco, clinical assistant professor of Pediatric Sports Medicine, and Lea Franco-MacKendrick, clinical research project manager, are part of the investigative team for TecTraum Inc.'s pro2cool System. The pro2cool System is a novel, non-invasive hypothermic (i.e. cold) therapy device designed to reduce the severity of concussion symptoms, allowing patients to return to their pre-injury baseline sooner.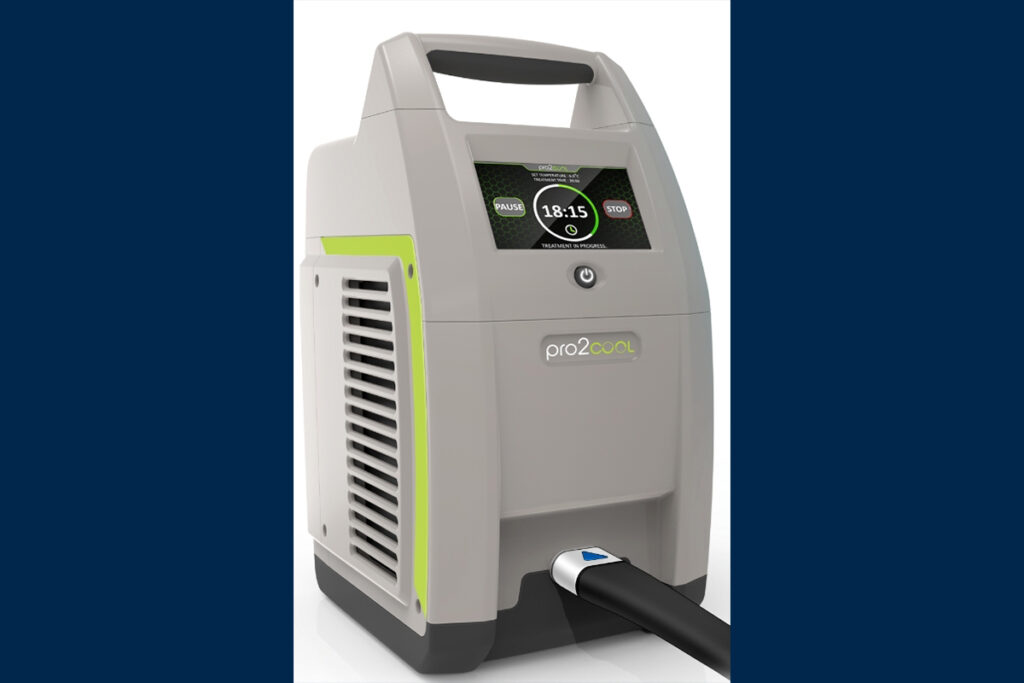 Hypothermic therapy has previously shown to be effective in cardiovascular injuries, including cardiac arrest and heart attacks. The physiologic benefit from cooling the injured region is believed to occur at the cellular level. By introducing cold to the injury and interrupting the body's naturally occurring localized inflammatory response, the cellular metabolic cascade (a series of chemical reactions that occur following injury) is dampened, thereby minimizing the ensuing damage the body causes in response to injury.
Franco-MacKendrick's theory is that inflammation plays an important role following a concussion.
"We have learned a lot through research. However, we don't exactly know what is happening in our bodies after a concussion, but we know there is inflammation. There has been a lot of research looking at different biomarkers that activate following an injury," she said. "By decreasing inflammation, we may impact the body's injury response."
According to Ichesco, patients place a neoprene-like soft brace on their heads, which circulates cold water around their scalp and neck. This localized cooling lowers the blood's temperature before it enters the brain, thus slowing the metabolic cascade and ultimately decreasing inflammation and assisting with recovery. This approach has the same underpinnings as placing a bag of ice on a sprained ankle.
Ichesco said that patients have been excited to participate in this study. "They feel better following a treatment session," she added.
Franco-MacKendrick theorized the reason patients are so eager to participate is that they see it as a safe, innovative treatment that is drug-free. "It feels like something feasible for both a patient's health, wellness, and schedules," she said.
The Food and Drug Administration designated the pro2cool System as a "Breakthrough Device" in November 2021. The FDA's Breakthrough Device program is intended to offer patients and healthcare providers timely access to medical devices that show promise to provide more effective treatment or diagnosis of life-threatening or irreversibly debilitating diseases or conditions.
C.S. Mott Children's Hospital wasn't the only pediatric center to serve as an investigational site. Other sites included Akron Children's Hospital, Dayton's Children's Hospital, and Cincinnati's Children's Hospital Medical Center.
Ichesco and Franco-MacKendrick are still enrolling participants, who are split into either a treatment or control group. Their next step will be to analyze the data they have collected. However, Ichesco said the initial data from the lead site (Akron Children's) looked promising.
"Hopefully, this is something that can be used right away in the athletic training room, the emergency department, or when patients are seen for their first appointment," Ichesco said. "This device could be used during the acute concussion phase to help patients feel immediate relief and help with symptoms later on."
Franco-MacKendrick agreed.
"If it does have a therapeutic benefit, this is something that could easily be used in a lot of different settings because it's compact, mobile, and easy to use," she said.