Center members attend International Consensus Conference on Concussion in Sport
November 15, 2022
|
By admin
The University of Michigan Concussion Center made its presence known during the International Consensus Conference on Concussion in Sport in Amsterdam, Netherlands, from October 27-28, 2022.
Center Director Steve Broglio, along with Executive Committee members Drs. Matt Lornicz and Andrea Almeida (co-clinical associate directors and co-directors of Michigan NeuroSport), Dr. JT Eckner (associate director of research and associate professor in the Department of Physical Medicine & Rehabilitation), and Dr. Doug Wiebe (associate director of outreach & engagement and director of the U-M Injury Prevention Center); U-M School of Kinesiology Postdoctoral Research Fellow Dr. Landon Lempke and PhD students Adrian Boltz and Reid Syrydiuk, Dr. Michael Popovich (clinical assistant professor of Neurology at Michigan Medicine); and Dr. Abby Bretzin (research investigator in the Department of Emergency Medicine), represented the University of Michigan at the conference.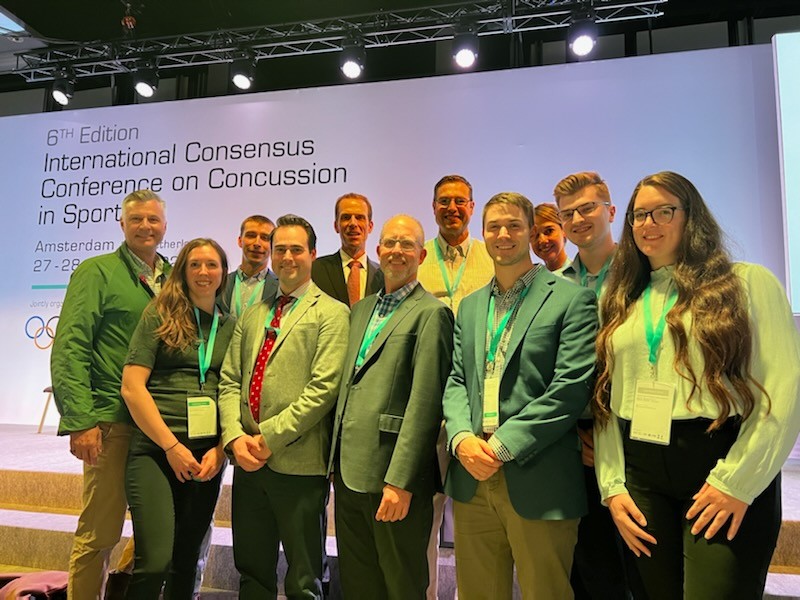 The International Consensus Conference on Concussion in Sport brought researchers together to present new research surrounding concussion and its definition, management,, treatment, return-to-play protocols, and long-term effects.
New research was presented by center members at the podium (Lempke & Boltz) and posters (Eckner, Lempke, and Syrydiuk). Broglio found his way to the podium as well, co-presenting a systematic review on return to school and sport followed by a moderated session on the same topics.
Lempke and Boltz were two of a select number of podium presentations chosen by the committee, which reviewed approximately 400 submissions. They each presented research from the National Collegiate Athletic Association (NCAA) – Department of Defense (DoD) Concussion Assessment, Research, and Education (CARE) Consortium.
Lempke's work ("Early Exercise is Associated with Faster Concussion Recovery Among College Athletes: Findings from the NCAA-DoD CARE Consortium") examined the benefits of light exercise on symptom recovery in collegiate athletes following a concussion. Boltz's talk on "Differences in return to play time by race and sport type among university student-athletes: findings from the Concussion Assessment, Research, and Education (CARE) Consortium" evaluated time to unrestricted return to play time by race and level of sport contact at the time of injury.
Lempke was also selected to present his research poster "Reliability of the Standardized Assessment of Reaction Time (StART): Translating Functional Reaction Time from the Lab to the Clinic." He tested the reliability and measurement properties of a clinical sport-related reaction time test he developed using commonly available clinical tools.
The center's collaborative research efforts were on display as well. Eckner presented "A preliminary comparison of brain morphometry between youth American football and non-football athletes: a report using Adolescent Brain Cognitive Development (ABCD) Study data", which was co-authored by eight center faculty members.
He co-authored the study with Lorincz, Almeida, Popovich, and center members Eric Ichesco, research lab special senior in the Department of Anesthesiology; Ingrid Ichesco, assistant professor in the Department of Pediatrics; Bara Alsalaheen, associate professor of physical therapy at University of Michigan Flint's Department of Physical Therapy; Scott Peltier, research scientist in the College of Engineering's Department of Biomedical Engineering; and Xuming He, professor of statistics in the College of Literature, Science, and the Arts.
The authors compared regional cortical thickness and subcortical gray matter volumes in 9-and-10-years-old children who play American football vs. non-contact sports.
Finally, Syrydiuk presented his master's student work from the University of Calgary's Sport Injury Prevention Centre. Working under Dr. Carolyn Emery, Syrydiuk examined the differences in head impact rates between a traditional 2021 12-on-12 Canadian youth tackle football season to a modified 9-on-9 2021 season that saw policy changes due to COVID-19 cohort and distance restrictions. He highlighted his research in the poster presentation "Down Three: Does a reduction in on-field players influence head impacts in Canadian youth tackle football?"
"It was great to see the Michigan Concussion Center so well represented at the 6th International Consensus Conference on Concussion in Sport," said Eckner. "As a first-time attendee, it was enlightening to see the amount of advanced preparation put into the systematic reviews by the Scientific Committee, as well as the rigor of the review methodology."
The new Consensus Statement on Concussion in Sport was drafted based on the findings of nine systematic reviews and will serve as guidelines for clinicians and healthcare professionals worldwide when treating concussed athletes.