Center joins the Marygrove Conservancy's Block Party in the City of Detroit
August 31, 2022
|
By admin
U-M Concussion Center joined more than 40 community partners in celebrating the first major public event held on the historic 53-acre Marygrove campus on August 13, 2022.
Building upon our existing partnership with the Detroit Public School Community District (DPSCD), Center members brought educational materials to the block party, including the "concussion signs & symptom poster" and the comic-based emergency room discharge instructions for parents and children.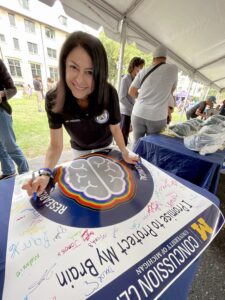 Hundreds of community members and leaders, including Dana Nessel, Attorney General for the State of Michigan, joined the center's effort in brain health awareness by signing our poster promising to protect our brain. "Thank you to the University of Michigan and its partners for working to raise awareness about the importance of safety equipment when participating in sports – especially when it comes to protecting our brains! This event was fun and engaging for the entire community, and I look forward to many more events at Marygrove," said AG Nessel.
One of the most effective head injury prevention strategies is to wear proper protective gear, such as a well-fitted helmet. Center member, Dr. Andy Hashikawa, along with Sandra Frolich, concussion center's staff, fitted more than 150 free bike helmets during the block party. Dr. Hashikawa is no stranger to the Marygrove campus; he hosted a well-attended Pop-up Safety Town event in 2022, and will have another one later this year in October 2022.
Pop-up Safety Town, sponsored by AAA Auto Group and the Michigan Health Endowment Fund, is an injury prevention education event for preschool children and families attending Head Start Centers. The event is run by volunteers and injury prevention experts teaching children about helmet safety, dog bite prevention, medication safety, dental safety, and pedestrian safety. To learn more about the program and how to volunteer, email pop.up.safetytown@umich.edu.
University of Michigan's recent engagement with the Marygrove Conservancy traces back to the landmark P-20 Partnership, a "cradle-to-career" educational initiative including U-M School of Education, Detroit Public Schools Community District, Starfish Family Services, University of Detroit Mercy, and The Kresge Foundation. As more partnering organizations offer educational programs and services to the students and staff on the Marygrove campus, the Concussion Center is committed to supporting the community's neurological health through our outreach and engagement efforts.