Center faculty member creates safety towns to address injury prevention education
Dr. Andrew Hashikawa, associate professor of Emergency Medicine and Pediatrics at Michigan Medicine, spends his non-clinical time providing injury prevention education to those who need it most, such as preschool children.
He is teaming up with AAA, the Auto Club Group Foundation, the Michigan Health Endowment Fund, and Michigan Medicine to offer Pop-Up Safety Town programs in cities he calls "injury prevention deserts," where there is little to no injury prevention education for young children and families, and very few available resources.
"More affluent school districts offer traditional safety town programming but often have fees and are inaccessible to those living in many urban and rural areas and often don't include education for parents," Hashikawa said. "I felt that it was important to do this in cities that need them. Places like Flint, Ypsilanti, and Detroit. There are health disparities here, especially with head injuries and offering helmets and education to children and parents."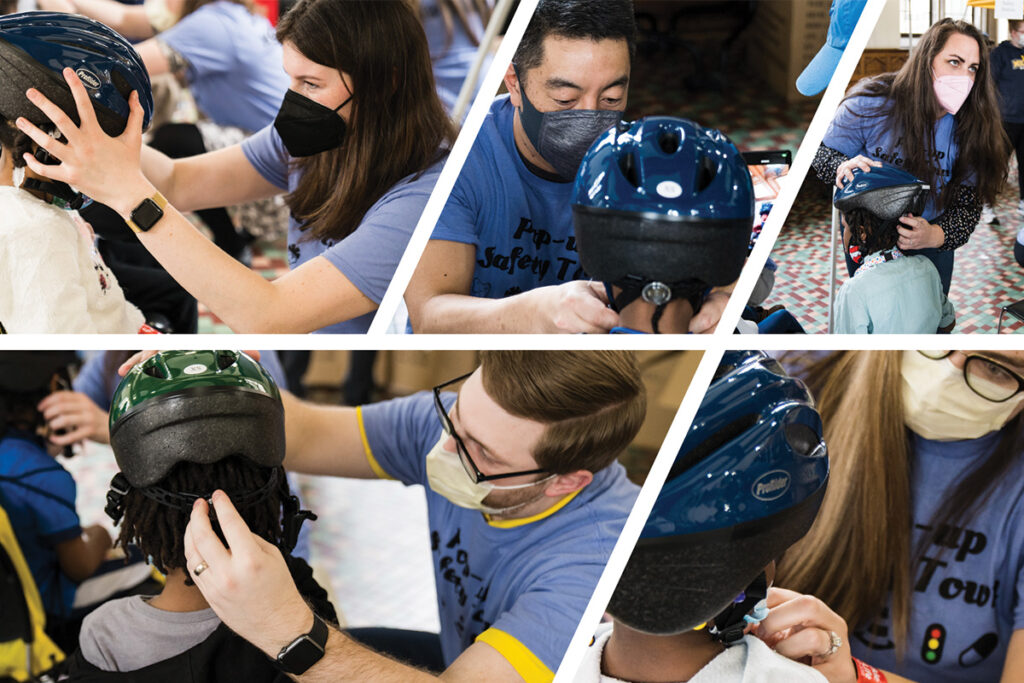 Pop-up safety towns are free events that feature different stations attendees can visit that provide injury prevention education and methods, from bike helmets to car seats. The stations are created to look like different buildings one would find in a town. Children who attend the events leave with adjustable bike helmets.
According to Hashikawa, the program can be tailored to the community they are visiting. Hashikawa held a Pop-Up Safety Town event in Detroit this past March, and the event included information on car seat safety, medication safety, dental safety, and dog bite safety.
Over 120 children attended the event and were fitted with adjustable bike helmets, and received free books for attending all the safety stations.
Hashikawa has also done water safety with Goldfish Swim School in Ann Arbor, electricity safety with DTE Energy, and railroad safety.
Last year, the Auto Club Group donated $14,500 to Michigan Medicine's Pop-Up Safety Town program. Hashikawa also received a $99,000 grant from the Michigan Health Endowment Fund. The events are offered to students in Michigan Head Start, an early childhood education development program for low-income families. The money funds program supplies, including bike helmets, car seats, safety coloring books, reading books, and crayons.
Going forward, he plans to take his Pop-Up Safety Town program to other areas, including rural areas such as Whitmore Lake and Durand, MI. He is also working with AAA to expand the program state-wide.
Hashikawa is open to any volunteer support from the community. "We've had undergraduate students, public health students, medical students, dental hygiene students, nursing students, and medical residents volunteers. It's a great experience and gives you so much energy once you're done. It's so much fun," he said.
To learn more about Pop-Up Safety Town and how to volunteer, email pop.up.safetytown@umich.edu.