Center collaborates with Michigan Athletics to provide concussion baseline testing for U-M student athletes
September 27, 2022
|
By Tina Chen
The University of Michigan has a vibrant sports history, with University leadership making the health and well-being of our student-athletes a top priority. As we sing "Hail to the Victors" with family and friends at different sporting events, have you ever wondered what the Concussion Center is doing to support the U-M teams and athletes? How athletic medicine implements evidence-based clinical care for student-athletes? Who are the unsung heroes and heroines working behind the scenes? The current standard of care for athletes includes a thorough physical and neurological baseline assessment before the season begins. When injuries occur, clinical staff rely on these objective metrics to support their return-to-play decision-making.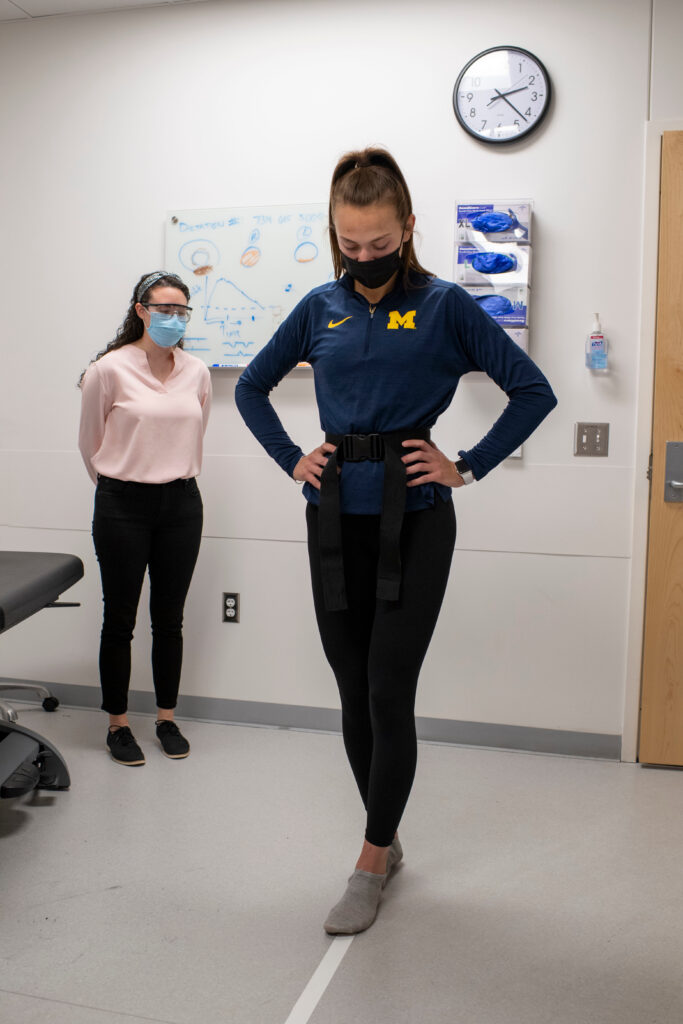 Since 2018, the Concussion Center has been organizing baseline testing sessions in collaboration with Michigan Athletics. This past summer, the Center once again organized a "concussion baseline testing team," consisting of five student interns led by Benjamin Wojtas, a strength and conditioning coach in Michigan Medicine's Department of Physical Medicine and Rehabilitation (PM&R). Ben brought over ten years of strength and conditioning coaching experience at the high school and collegiate levels with him to U-M and before joining the University was named the State of Michigan's 2020 "coach of the year," nominated by the National High School Strength Coaches Association (NHSSCA). The Concussion Center is proud to have Ben as a staff member and an ambassador: "Ben transitioned into the team leader role for the baseline testing program with very short notice, and he was able to effectively organize training sessions, work with multiple stakeholders with competing priorities, and deliver timely and exceptional service to our Athletics partners. This was truly impressive, and we are very lucky to have Ben on our team." said Dr. JT Eckner, our Associate Director for Research who oversees the baseline testing program.
As a strength and conditioning coach, Ben sees the value of baseline metrics. "It's important to obtain these measurements to ensure that the Athletic Medicine team can be confident each time an athlete returns to play following these injuries that they are in the best position to be healthy and successful going forward. I feel very fortunate for the opportunity to work with great student interns and staff members through both the Concussion Center and Michigan Athletics in providing exceptional care to our student athlete population," said Ben Wojtas. The team's collaborative efforts in providing exceptional care to student athletes have also been recognized by Athletics Medicine: "As a Student-Athlete Health and Welfare team member, I cannot over-emphasize the importance of the U-M Concussion Center as a complimentary service to our athletics community. We strive to implement and follow protocols for the well-being of our students. The support of the Concussion Center has been vital in allowing us to get our student-athletes to a successful gameday experience!" said Mr. Lenny Navitskis, U-M's Staff Athletic Trainer.

Most students who applied for this summer baseline testing opportunity were interested in neuroscience, kinesiology, sports medicine, or psychology. Having the opportunity to be on the athletics campus and support athletic trainers and coaching staff in performing these important baseline assessments has been a rewarding educational experience for the students. "I am trying to make a difference in the world, and that means making a difference one baseline test at a time," said Emiliano Davalos, a U-M Psychology student helping this summer.
The support of the Concussion Center has been vital in allowing us to get our student-athletes to a successful gameday experience!

Lenny Navitskis, Staff Athletic Trainer