Back to Our Advisory Board Members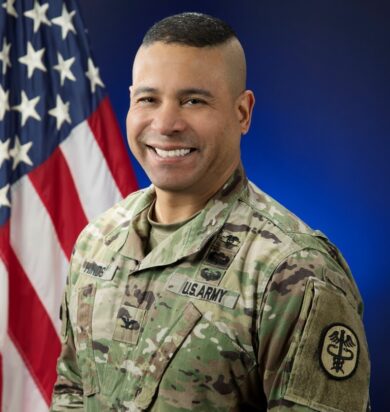 Col. Sidney R. Hinds II
Chief Health Equity Officer, NFL Players Association (NFLAP)
U.S. Army, Retired
Dr. Hinds is the first Chief Health Equity Officer for the NFL Players Association. In this role, he serves as an advisor and advocates for the health and safety of the former players and their family members.
Dr. Hinds is a recently retired United States Army officer with over 30 years of military medicine experience.  He is a neurologist and nuclear medicine physician who most recently served as the DoD Brain Health Research Coordinator for the DoD Blast Injury Research Coordinating Office and as the Medical Advisor to the Principal Assistant for Research and Technology (PAR&T), Medical Research and Materiel Command, FT Detrick, MD.
He was the Defense and Veterans Brain Injury Center's (DVBIC) fifth national director from July 1, 2013 to 16 March 2016.  He served to collaborate, advise, and promote military relevant neurological and psychological medical and non-medical research efforts within the DoD and with external partners.  One of his efforts to accomplish this mission was his additional role as co-primary investigator on the VA, DoD, VCU collaboration, entitled the Chronic Effects of Neurotrauma Consortium (CENC).  This is a concerted effort to analyze the natural history of mild traumatic brain injury and its potential long-term effects.  The creation of this consortium was in direct response to the National Research Action Plan (NRAP) of 2013.
As national director, DVBIC, Col. Hinds oversaw all aspects of the organization's mission, which is to serve active-duty military and veterans with traumatic brain injury (TBI) through state-of-the-art medical care and care coordination, and innovative clinical research and educational programs.
His other significant military medicine leadership roles included: deputy director of the Armed Forces Radiobiology Research Institute (AFRRI) for Military Medical Operations; the in-theater neurologist in Afghanistan (Operation Enduring Freedom), and chief of Nuclear Medicine Services at Walter Reed National Military Medical Center,  chief of integrated nuclear medicine services for the Base Realignment and Closure process that combined the former Walter Reed Army Medical Center, National Naval Medical Center, and Fort Belvoir Community Hospital.
While deployed to Afghanistan, Col. Hinds served as the theater neurology consultant and oversaw standardization of concussion care and 11 concussion care centers which included MRI utilization. Performing site visits allowed him to ensure that staff had appropriate training, education, and resources. He reviewed cases, shared best practices, promoted in-theater TBI research, worked with theater providers to identify and close gaps inpatient care, and provided valuable information which shaped DoD TBI policy.
Before entering medical school, he served in the following tactical and administrative roles: medical platoon leader, 4-64 Armor Battalion, 24th ID at FT Stewart, GA from OCT 1988 to August 1990. He was the executive officer, treatment platoon leader and ambulance platoon leader of C Company, 224th Forward Support Battalion, 24th ID, in Saudi Arabia and Iraq, during Desert Shield/Desert Storm August 1990 to March 1991.
He was the Distinguished Honor graduate of the U.S. Army Medical Department patient administration course and served at the Army Defense Medical Information System from 1991 to 1992, testing and advising the Composite Health Care System (CHCS I).
Dr. Hinds has also served/serves on numerous neurological disorders and traumatic brain injury boards: NFL-GE Head Health Challenge Medical Advisory Board; NFL Scientific Advisory Board, NCAA-CARE Scientific Advisory Board; and Ex Officio member, National Advisory Neurological Disorders and Stroke (NANDSC) Council
He graduated from the United States Military Academy in 1988 and served as a Medical Service Corps Officer from 1988 until 1992. He received his M.D. from the University of Connecticut Health Center and was re-commissioned as an Army Captain in 1996.
Dr. Hinds completed his neurology internship and residency at the former Walter Reed Army Medical Center and the National Naval Medical Center from 1996 to 2000. He was a staff neurologist and then chief of neurology at Landstuhl Regional Medical Center from 2000 to 2004. He completed the Walter Reed Nuclear Medicine Fellowship Program in 2006.
Dr. Hinds is a Co-PI and lead for external collaborations for the Long-term Impact of Military-relevant Brain Injury Consortium-Chronic Effects of Neurotrauma Consortium (LIMBIC-CENC). The LIMBIC-CENC mission, "…is to fill the gaps in knowledge about the basic science of concussion/mild TBI, determine its effects on late-life outcomes and neurodegeneration, identify service members most susceptible to these effects, and identify the most effective treatment strategies. LIMBIC-CENC is a multi-center collaboration linking premier basic science, translational, and clinical neuroscience researchers from the DoD, VA, academic universities, and private research institutes to effectively address the scientific, diagnostic, and therapeutic ramifications of mTBI and its long-term effects."
Dr. Hinds' awards include the Legion of Merit (1 OLC), Bronze Star Medal (1 OLC), Meritorious Service Medal (2 OCL), Expert Field Medical Badge, Parachutist Badge, Air Assault Badge, the Army Medical Department's A Proficiency designator and the Order of Military Medical Merit.  He is a graduate of the Combined General Staff College, Jungle Warfare School, Medical Effects of Ionizing Radiation (MEIR) and the Tactical Combat Medical Care (TCMC) Course.