Back to Our Advisory Board Members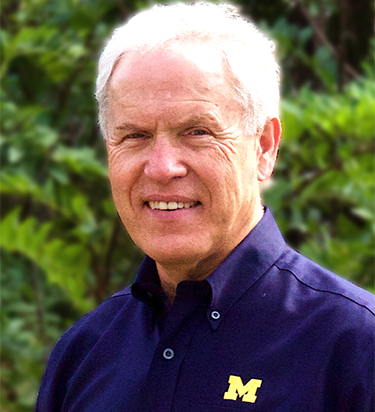 Ronald Zernicke, PhD, DSc
Professor, Department of Orthopaedic Surgery
Professor, School of Kinesiology & Department of Biomedical Engineering
At the University of Michigan (UM), Ron Zernicke is Professor of Orthopaedic Surgery, with joint appointments as Professor of Kinesiology and Biomedical Engineering. He was Dean of the UM School of Kinesiology, and he is Director of the UM Exercise & Sport Science Initiative. Prior to coming to UM, he was the Executive Director of the Alberta Bone and Joint Health Institute, and at the University of Calgary, he was John and Christena Wood Professor in Joint Injury Research in the Cummings School of Medicine (Department of Surgery), Professor and Dean of the Faculty of Kinesiology, and Professor in the Schulich School of Engineering (Department of Mechanical Engineering).
His baccalaureate was from Concordia University Chicago, and his MSc and PhD were from the University of Wisconsin-Madison. He joined UCLA in 1974 and was Professor and Chair of the Department of Kinesiology when he was recruited to Calgary. He received the UCLA Award for Distinguished Teaching, City of Calgary Community Achievement Award (Education), the University of Calgary Award for Outstanding Achievement in Graduate Supervision, and he was Alumnus of the Year for Concordia University Chicago. He received an honorary Doctor of Science degree from the University of Waterloo, Canada.
He was President of the Canadian, American, and International Societies of Biomechanics, and he Co-Chaired the 4th World Congress of Biomechanics. His research awards include: NASA (Cosmos Achievement Award), Society for Physical Regulation in Biology and Medicine (Yasuda Award for Outstanding Research Paper), American and International Societies of Biomechanics (Delsys Award), Canadian Society for Biomechanics (Career Award), Canadian Orthopaedic Research Society (Founder's Medal for Best Research), and Canadian Institutes for Health Research (Partnership Award). He is a Fellow of the International, Canadian, and American Societies of Biomechanics, American College of Sports Medicine, and National Academy of Kinesiology (President-Elect 2019-2020). He has received research grants from agencies such as: Arthritis Society of Canada, Adidas, Canadian Space Agency, Natural Sciences and Engineering Research Council of Canada, Canada Foundation for Innovation, Canadian Institutes for Health Research, National Aeronautics and Space Administration, National Science Foundation, and National Institutes of Health. His research focuses on: (1) adaptation of bone to exercise, disuse, and diet, (2) human movement dynamics and performance, and (3) joint injury and osteoarthritis, and he has authored more than 600 peer-reviewed research publications and abstracts, 1 patent, and 2 books.