Back to Our Executive Committee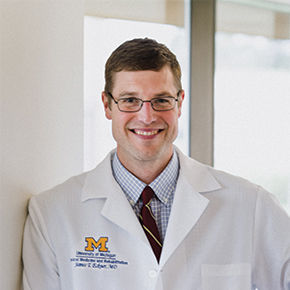 Dr. Eckner received his M.D. degree from Case Western Reserve University and his M.S. degree from the University of Michigan in Clinical Research Design and Statistical Analysis. His research addresses mild traumatic brain injury in athletes, including concussion prevention through neck strengthening exercise, concussion biomechanics, determining the role of reaction time testing in concussion assessment, long term effects of concussion on neurological health, as well as, in the management and rehabilitation of athletes.
Dr. Eckner is an Associate Professor in the Department of Physical Medicine & Rehabilitation, Director of Clinical Research, Michigan NeuroSport and PM&R Concussion Programs, and Director of the PM&R Resident Research Program, in addition to the Michigan Concussion Center's Research Associate Director.
Education
MD, Case Western Reserve University
MS, Clinical Research Design and Statistical Analysis, University of Michigan
Tags