Back to Our Concussion Champions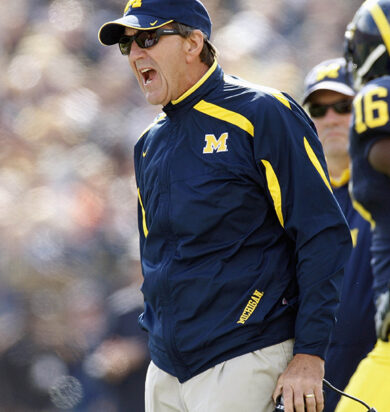 Lloyd Carr
Retired Head Football Coach
Retired University of Michigan Head Football Coach
Lloyd Carr completed his 13-year career as Michigan's head coach with a thrilling 41-35 victory over No. 9 Florida in the 2008 Capital One Bowl. Carr compiled a 122-40 overall record during his career and led the Wolverines to six 10-win seasons. He guided U-M to the 1997 national championship and five Big Ten Conference crowns.
Carr's 120 victories trail only Fielding H. Yost (165-29-10) and his mentor, Bo Schembechler (194-48-5), at Michigan. Carr was even more impressive in Big Ten play, compiling an 81-23 mark, and is the eighth coach in Big Ten history and third in Michigan history, joining Yost and Schembechler, to claim five or more Big Ten titles (1997, 1998, 2000, 2003, 2004). Carr's teams finished in the top three of the conference standings each of his final 11 seasons.
Carr was a member of the Wolverine football staff for 28 years. Prior to being elevated to the head coaching position, Carr said he thought he held the greatest assistant coaching job in the country, serving 15 years under Schembechler (1980-89) and Gary Moeller (1990-94). Carr joined Schembechler's staff in 1980 as defensive secondary coach, was the defensive coordinator for eight seasons, and then moved into the position of assistant head coach for five years before becoming head coach in 1995.
Carr guided the school to a bowl game in each of his 13 seasons, with 11 of those appearances coming on New Year's Day. He became the first Wolverine coach to win four straight bowl games, doing so with victories in the 2001 Citrus Bowl, 2000 Orange Bowl, 1999 Citrus Bowl and 1998 Rose Bowl games. Michigan was ranked in the Associated Press Top 25 for all but 14 of Carr's 162 career games, including 65 appearances in the Top 10.
In addition to his work on the football field, Carr has been involved in the University, community and coaching fraternity. He has been active in support of women's athletics, endowing a women's athletics scholarship that is presented annually to a U-M female student-athlete. He initiated the Women's Football Academy and U-M Men's Fantasy Football Experience which donate all proceeds to the University of Michigan Comprehensive Cancer Center. He also served on the NCAA Rules Committee and was a member of the American Football Coaches Association Board of Trustees.
Carr began his coaching career as a high school assistant at Nativity High in Detroit (1968-69) and at Belleville (Mich.) High School from 1970-73. He was head coach at John Glenn High School (Westland, Mich.) from 1973-75, earning Regional Class A Coach of the Year honors in 1975 following an 8-1 season. His collegiate coaching career started with two seasons at Eastern Michigan (1976-77), followed by two seasons at Illinois (1978-79) before arriving at U-M.
In 1997, Carr was inducted into the Catholic League and Northern Michigan University Halls of Fame. He was inducted into the Jewish Sports Hall of Fame during the 2004 season. Carr was inducted in the state of Michigan Sports Hall of Fame and the National Football Foundation and College Football Hall of Fame in 2011.
Carr is married to the former Laurie McCartney.